Dining
We have a great assortment of styles and materials. Custom dining tables are an absolute favorite of ours.
--.--

The traditional Ipe furniture pieces represent the early designs of our company. The chair...

--.--

The Crystal stacking armchair for indoor and outdoor use is produced in clear polycarbonat...

--.--

Designed with premium, marine grade teak, this outdoor dining table combines a strong shap...

--.--

Oval dining table top is elegant and sure to impress guests. Stunning lines and soft curve...

--.--

Indeed for many years the Royal Botania name has been associated with fine teak outdoor fu...

--.--

Pavilion Furniture was formed out of a need expressed by the design community for a more s...

--.--

Florentine Umbrella 48 inch round dining table that is spacious for small group dining. De...

--.--

Air XL armchair is produced with a single injection of polypropylene reinforced with glass...

--.--

What makes the XQI folding dining chair exquisite? It's the perfectly balanced appearance ...

--.--

Exotic and polished woven bamboo pattern forged in cast aluminum framing. Smooth curves an...

--.--

Relax in this handsomely woven arm chair from the Tamiami Collection. Effortlessly conform...

--.--

The Opal stacking chair is designed in Ipe timber which is incredibly strong and dense, wi...

WESTSIDE: 1189 HOWELL MILL RD ATLANTA, GA 30318
STUDIO 321: 351 PEACHTREE HILLS AVE, STE 321, ATLANTA, GA 30305

--.--

The Coral Dining Chair looks beautiful set around any of Jensen Leisure dining tables. The...

--.--

CLICK Chair is simple, honest and ergonomically well thought out. It is beautiful in its r...

--.--

The MAD dining chair design complements the MAD tables as well as any table from our colle...

--.--

Elements 45 X 98 dining table. Long rectangular table that is perfect for larger social ga...

--.--

Powder-coated aluminum framework that incorporates exquisite cast finials and buns. Beauti...

--.--

The Amalfi Round Dining Table is handcrafted from solid steel and provides sturdy support ...

--.--

SeaX is elegant with a thoughtful approach to materials and textures. This dining table ha...

--.--

This WA dining table features elegantly tapered cast aluminum legs in a special scuff resi...

--.--

The SATELLITE collection is elegantly simple, streamlined and modern. And with tabletops o...

--.--

The Derby garden chair is handwoven with maintenance free honey colored cane on a galvaniz...

--.--

The best of both worlds: comfort and class. The Provance swivel rocker dining chair blends...

--.--

The modern look of Fusion successfully blends the cultural elements of European materials,...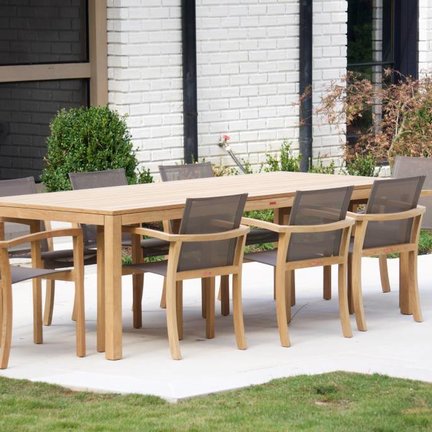 We have a great assortment of styles and materials. Custom dining tables are an absolute favorite of ours.