Dining
We have a great assortment of styles and materials. Custom dining tables are an absolute favorite of ours.
--.--

What makes the XQI folding dining chair exquisite? It's the perfectly balanced appearance ...

--.--

The Topaz Collection is created of FSC 100%, solid heartwood, Ipe timber. A clean and cont...

--.--

Exotic and polished woven bamboo pattern forged in cast aluminum framing. Smooth curves an...

--.--

Pavilion Furniture was formed out of a need expressed by the design community for a more s...

--.--

Designed with premium, marine grade teak, this outdoor dining table combines a strong shap...

--.--

This modern outdoor dining arm chair from the Coast Collection is crafted of ivory canvas ...

--.--

Check out the Club Teak 42? Square Farm Table when looking for a great outdoor farm table ...

--.--

The traditional Ipe furniture pieces represent the early designs of our company. The chair...

--.--

The Crystal stacking armchair for indoor and outdoor use is produced in clear polycarbonat...

--.--

SKETCH outdoor table with lamellas in bamboo. The beautiful sculpted metal legs give the S...

--.--

The simple design goes anywhere and is easy to move around. The Copenhagen line is "all we...

--.--

NINIX extendable dining table is both minimal and maximal in material selection and refine...

WESTSIDE: 1189 HOWELL MILL RD ATLANTA, GA 30318
STUDIO 321: 351 PEACHTREE HILLS AVE, STE 321, ATLANTA, GA 30305

--.--

Those who thought that it was impossible to bring out a really innovating aluminum collect...

--.--

The Parkway dining armchair is beautifully crafted for professional, hospitality, and home...

--.--

Powder-coated aluminum framework that incorporates exquisite cast finials and buns. Beauti...

--.--

Relax in this handsomely woven arm chair from the Tamiami Collection. Effortlessly conform...

--.--

Oval dining table top is elegant and sure to impress guests. Stunning lines and soft curve...

--.--

PLAY puts unprecedented freedom of choice in the hands of consumers. This stackable chair ...

--.--

DISCUS is a collection of round tables available in 15 different combinations. Legs are av...

--.--

Inspired by the city known for its great art, spectacular architecture and vivid sense of ...

--.--

The Lansing arm chair has a classic and romanic country look. The spacious chair matches t...

--.--

The Flex dining armchair designed in resilient Suncloth straps hand woven in a cross-strap...

--.--

Venetian's refined silhouette is highlighted by timeless Neoclassic details and easily acc...

--.--

Made of premium solid teak, this low table was designed to serve as the center- piece of a...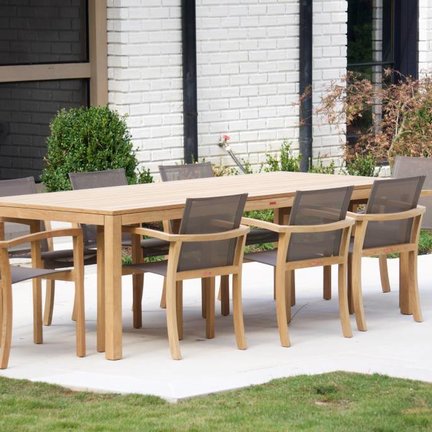 We have a great assortment of styles and materials. Custom dining tables are an absolute favorite of ours.